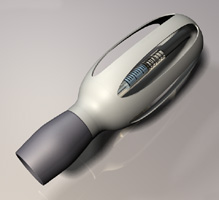 SYRINGE REDESIGN
for Becton Dickinson
Becton Dickinson was looking for new diabetic syringe design concepts. They selected 12 semi-final designers, gave them more specific feedback, then narrowed the search down to 3 finalists. Tyson then created two concepts based on their feedback for the final presentation, and finalized with the one shown above.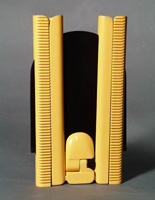 A four week project inspired by folding pocket tools and a Jacob's Ladder toy. The device is manufactured in nylon 66 and steel. The handle is textured to show how the legs meet.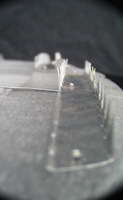 A two-week project concerned with creating an affordable and durable product. Like the SHOVEL-HOE, this is also a folding device. It is made of Lexan to mimic the look of ice.